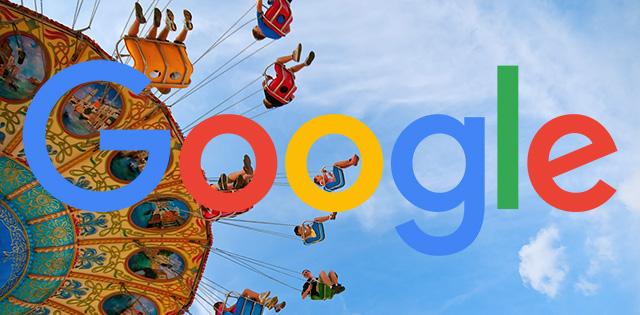 Danny Sullivan who is now at Google told us about these ranking fairs, where Googlers can show off ideas and features around Google search. Danny did his own this week and shared in his station many of the ongoing SEO and webmaster complaints and concerns around Google search.
He did it in a creative way by making a classic grade school science fair poster board with the complaints on them, here is his tweet:
The search team at Google holds regular "Ranking Fairs," which are like science fair for sharing your projects with others in search. I'm doing my first one today sharing some of the webmaster ecosystem concerns I hear. I share these in other ways, too. But this is more creative! pic.twitter.com/E52hVpB8OG

— Danny Sullivan (@dannysullivan) May 14, 2019
He titled it "Webmaster & ecosystem concerns." In there he talked about these specific concerns:
Voice and Assistant – not being able to tell how their content is shown for such queries.
Webmasters want more control over sitelinks, titles, snippets, mixing images and text in featured snippets, rich snippets, knowledge panels, opt out of featured snippets and more.
Google taking content from publishers but not giving back traffic
Google showing features or ads above the real results.
Google scraping content
Concern over zero clicks
Here is a larger image of this so you can read the fine print.
Many in the SEO community are happy Danny did this:
Awesome! Danny, can't tell you how much this is appreciated.

Thank you for making our voices heard. (also, think I see my photo there 🙂

— Cyrus (@CyrusShepard) May 14, 2019
These are great, but I don't know if engineers understand the importance of these to us. Perhaps you should add a stack of $100 bills to get their attention.

— Dustin Woodard (@webconnoisseur) May 15, 2019
This is amazing! 💪

— Greg Finn (@gregfinn) May 14, 2019
Your advocacy on these topics is greatly appreciated.

— Alan Bleiweiss (@AlanBleiweiss) May 14, 2019
Update: Danny said 50+ engineers stopped by to talk to him about it:
I probably talked with over 50 engineers over the three hours I was by my board. People swing around all the exhibits.

— Danny Sullivan (@dannysullivan) May 15, 2019
Forum discussion at Twitter.
Was this code snippet helpful?